INTRODUCTION
SMOK LP2 Replacement Coils is specially developed for use with SMOK RPM 4 Kit and SMOK RPM 4 Cartridge. It is an upgraded version of LP1 series coils, retaining the leak-proof structure and optimizing the internal heating elements. The SMOK LP2 coils have been designed for flavor, vapor, and an all-around fantastic vaping experience. The coils are available in different resistances to suit your preferences. LP2 Meshed 0.23ohm DL Coil - Work on a leak-proof vaping experience. Direct to lung vaping. Enlarged contact area for huge cloud production. LP2 DC 0.6ohm Coil - Work on a leak-proof vaping experience. Dual coils for high-quality vapor and flavor. Each coil in this series uses 3 silicone rings to provide tightness. The color of each silicone ring is the same. When inserting the coil into the pod, the added silicone ring on the bottom of the coil would fill the gap, effectively stemming the liquid leaking from the pod that results in a messy vaping experience or dirty hand. The internal heating wire of the SMOK LP2 coil has multiple honeycomb round holes. When the meshed coil gets in touch with the saturated cotton, delightful taste with smooth flavor and rich vapor arise spontaneously. 5pcs per pack.
SPECIFICATION
Coil Type:LP2 Meshed 0.23ohm DL Coil
LP2 DC 0.6ohm Coil
LP2 Meshed 0.23ohm DL Coil:Mesh Coil
Power Range: 20-45W
Designed for direct to lung (DL) vaping
LP2 DC 0.6ohm Coil:DC Dual Coil
Power Range: 15-25W
Designed for mouth to lung (MTL) vaping
PACKAGE LIST
1* 5pcs SMOK LP2 Replacement Coils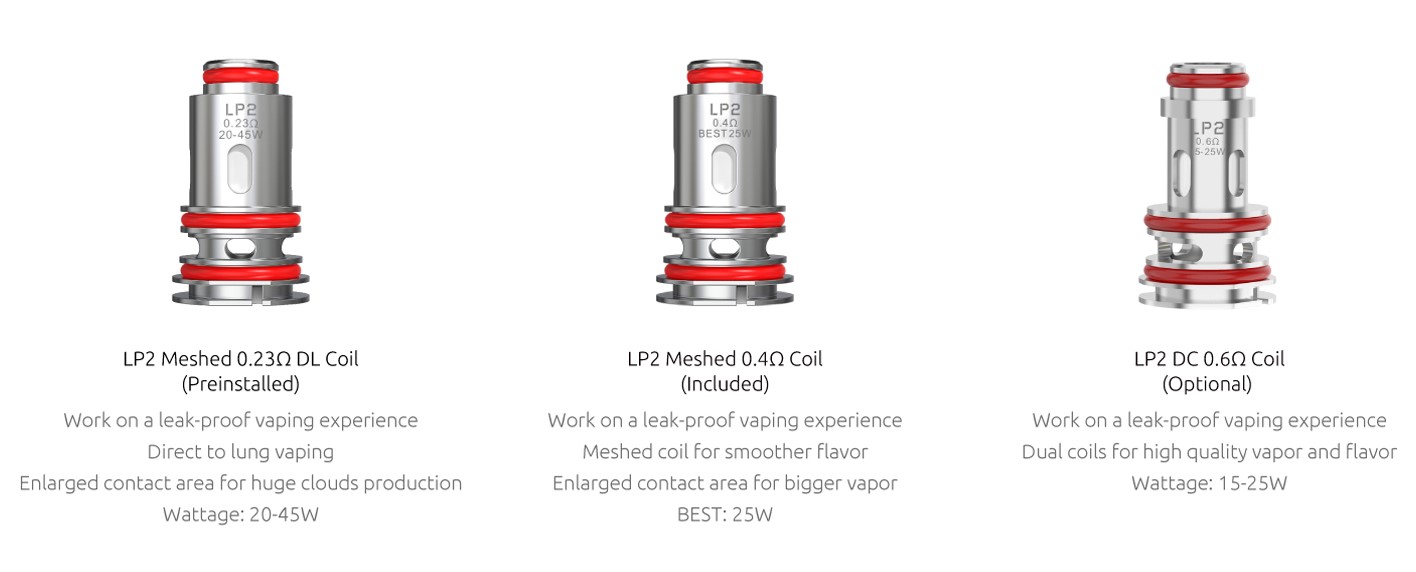 GUARANTEE
3 Months for Vape Mods. Vape Tanks & Accessories are DOA(Dead On Arrival), please contact us within 72 hours of delivery.
Share
View full details